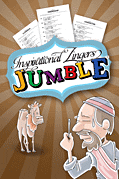 My kids LOVE puzzle books. I got this one in the mail from Tyndale Books to review. I love the Biblical perspective in these kinds of puzzle books because they help not only my children to learn more about the Bible, but they help me as well.
If you are looking for something to help your children during Bible study time, give this neat puzzle book a try!
You can purchase yours today from Tyndale by clicking this link, or from your favorite bookstore like Amazon or
CBD
.
About the Book:
Every day, millions of people enjoy Jumbles in newspapers across the country. Now you can enjoy these popular puzzles while being encouraged by inspirational thoughts from the Bible and wisdom from the world's most successful people. Perfect for families, trivia buffs, and puzzle fanatics,
Inspirational Zingers Jumble
is packed with six different kinds of puzzles for hours of fun:
Jumbles
Double Jumbles
Mystery Person Jumbles
Word Search Jumbles
Super Jumbles
Criss-Cross Jumbles