When I started learning how to cook from scratch and pinch our pennies around here, I was introduced to
The Hillbilly Housewife
. Immediately, I was drawn in to the ease of which her recipes are made. In my mind, I thought
surely these recipes cannot be this easy to prepare.
Believe me, they are!
For a while, I made many of her recipes on her website, but then I was intrigued by her
Freezer Cooking Made Simple
E-Book. I had longed to learn about freezer cooking and every other book I have ever read said I had to do it once a month. Not the Hillbilly Housewife! She says that you can do it by the week, bi-weekly, monthly--whatever is easiest for you! In her E-Book, she has broken down and done all the hard work for you, all you have to do is implement it!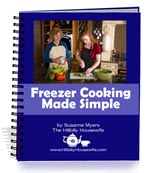 Another one of her books that I absolutely love is
Meal Planning Made Simple
. I am an avid meal planner! For a long time though, I was not real sure how to menu plan that well. The Hillbilly Housewife does a great job showing me how to break those menus down and save them so that I can rotate out and always have a fresh week of food to serve my family.
The Hillbilly Housewife also has a club where you can join and talk to other frugal minded moms. Right now, you can join the club for only
$1
! To join the
Hillbilly Housewife Club
just click the link.
To become an affiliate for the Hillbilly Housewife, just click here:
Become an Affiliate