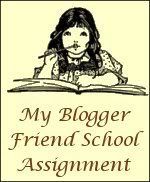 Assignment: Tell us all about how your have "your" relaxing time, more especially how during the cooler months you take time to curl up with your favorite movie, book, Bible study, and what your favorite warm drink would be.
Share a picture of your favorite spot in the house or your favorite warm beverage, your favorite movie or book; possibly even your favorite Bible Study or maybe your women's Bible group.
During the cooler months, my favorite thing to do is curl up on my lovely, comfortable, couch and read, read, read!
I grab my cup of coffee, my favorite drink in the morning, my Bible, the current book I am reading, my snuggly blanket, and sometimes the dog, and read until my eyes get heavy. Here is a picture of my books. I have so many! I was very excited, because I went to a sale and they were giving away books by some of my favorite Christian authors!
As you can tell, my bookshelf is a liiiittle overloaded!
After I read, I might nap after that, or get up and bake something. Baking is another way that I relax in the cooler months. It makes me feel wonderful when I can bake my husband and children some of their favorite desserts!
One of my favorite bible verses during this time of year is 1st Peter 5:7, "Cast all your care upon the Lord for He cares for you." It's during these colder months that I tend to spend less time worrying about things and begin to rest and relax in the Lord.