Memory Verse:
Introduction: You Deserve a Break Today (McDonalds) –After all this crazy weather, the economy ups and downs and now a new President for the United States you all do deserve a break today. I want to give everyone a 'break today' and have the ANNUAL SHOPPING SPREE!!!
Assignment: I'd like to stick with a theme for the spree though. The marriage bedroom! I'm also being a little selfish on this one because my husband and I are getting ready to demolish our room, my office, and our 'guest' room and make ourselves a master suite. I need some great ideas on linen, wall colors, curtains, pictures…anything that would help me to decorate our new room. I do want a soft and sanctuary type theme. Are you willing to help me? Your budget is $1500! I gave you a raise from last year…since the economy is so bad right now…LOL. Make sure you use the banner and code on the right side of this page to show us your assignments!
One of my favorite places to shop on the internet is Overstock. All of my items that I have chosen come from there.
Furniture is where we will start today. Here is a beautiful bedroom set that is priced affordably at $590.00!
Claremont Cherry Queen size Bed and Nightstand Set
To go with this bedroom set, is a beautiful cherry 5 drawer chest for storage. Priced at $210.00, it goes well with our bed (we have now spent $800.00)
Chelsea Cherry 5 drawer Chest
The bedding that I have chosen are my very favorite colors. I like warms and cools mixed together to give you a balance. Priced at only $60, this is a steal! (we have now spent $860.00)
Padova 4pc Comforter Set
The wall color that I envision is the taupe that is in the comforter set above. Now accent that with whispy blue curtains that match the blue in the comforter set, and this will be a gorgeous room! Priced at $25.00 per pair, is not a budget breaker at all ( I chose 2 pair) (we have now spent $910.00)
Sargasso Sea Ombre Curtains
For lighting I have chosen two table lamps for the nightstands. They are not modern. I don't like that style. They are simple, elegant, and affordable! Priced at only $162.00 for the pair! What a bargain! (we have now spent $1072.00)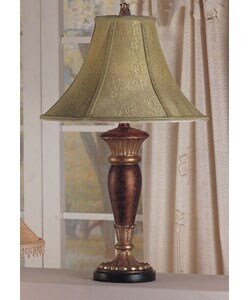 Antique style table Lamp set
Let's create a seating area since it will be a Master Suite. Here is a really nice chair that will go well with the color scheme I have created: Priced at only $100 each, we can create a beautiful seating area: (we have now spent $1272)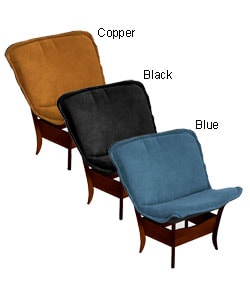 Classic Comfort Chair
Here is a really cute table to go in our seating area. Priced at only $120.00 we still have a little budget left for some wall deocorations. (we have now spent $1392)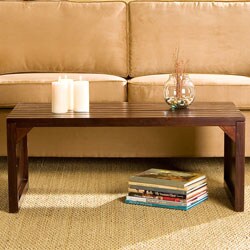 Stratford Slat Bench
Add a candle water fountain for a little romance and warmth. Only $20.00!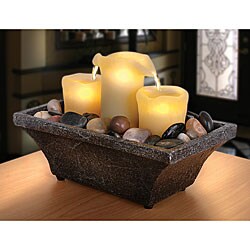 Sarah Payton Candle Water Fountain
The remainder of the money can be used to purchase wall art, and picture frames of your choice. I hope that you like the choices that I have chosen. This would be my ideal room!