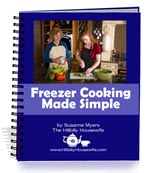 I was very blessed when I got to review
HillbillyHousewife.com
Freezer Cooking Made Simple
. You all know just how much I love this site because I post about it all the time!
Anyway, since my newest endeavor is wanting to learn how to do freezer cooking, I decided to check out her book on this helpful skill. The title of the book really says it all! Suzanne has definitely simplified the whole freezer cooking process and broken it down into managable chunks. Some of the other books I have read tell you start out doing one month at a time, but she gives you tips and ideas on starting out doing it a week at a time, which for me is great--since I am just starting out.
Another thing that I like about this book is the fact that it includes not only dinner recipes, but breakfast and lunch as well. I mean, there are THREE meals per day, so why not freezer cook for more than just dinner?
Suzanne's method of freezer cooking takes you step by step in the process. She has even included printable forms to help you plan an organize without stressing yourself out.
If you would like to know more about
Freezer Cooking Made Simple
, just click this link and you too can be on your way to saving time and money in the kitchen.
PS. Did you know that The Hillbilly Housewife has two new E-Books available? If meal planning has always been a thorn in your side, why not try her method in
Meal Planning Made Simple.
Or if using the crockpot is your thing, you can get her new E-Book called
Crockpot Cooking Made Simple.
Happy cooking!