Do you ever have a longing in your heart to be somewhere else other than where you are at? I live in the city, but my heart. . . my heart wants the country. There is just something peaceful about stepping out on your porch in the early morning hours watching the sun come up. Country living to me signifies a more simpler lifestyle, one that doesn't require every technical gadget, or keeping up with the Jones'.
Here are a few things I love about the country. Maybe one of these days, I will get there.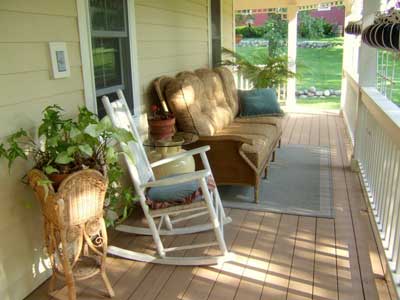 I love a beautiful little farmhouse with a front porch just for me. Simple, yet elegant. The ultimate kind of home. Not fancy brick work, or elaborate wood, but just a simple small farm to enjoy the pleasures of life on.
A kitchen to call my own, complete with gingham curtains, apple motif, and my Kitchenaid mixer--all would be right with the world in this one room--and the view is stunning! (by the way, I really like this kitchen Stephen--hint, hint)!
A living room meant to be lived in--snuggling on the couch with a good book, watching a movie together while eating popcorn, laying on the floor playing board games--all of those to me are things that I love!
A pond of our own to stock with our favorite fish--complete with picnic table of course!
Riding four wheelers across our land. Yes--we love all those things! That is why I say one day--hopefully--we will be here. And these photos will be us. But for the time being, I can only dream and pray for God to bless our family with something like this.
What about you? What do you love? Where does your heart long to be?
Photos courtesy of google images.