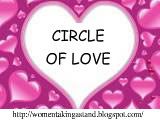 Today I have been featured on the Circle of Love Segment over at
Women Taking A Stand
. You have got to go over there and check it out. I just did and I am so humbled at what Laurie has said about me.
To imagine that God could take a nobody like me and use me in some kind of way to bring encouragement to someone is just beyond my recognition! God is so awesome and He gets all of the glory in all of this!
Thank you Laurie for those wonderful sweet words that you shared about me! I enjoy your friendship so very much!