They say that man's best friend is a dog. Can you really just own one? I have three! Yes count them: One, two, three—and they are my best friends. Over at Kelly's Korner today we are sharing about our pet's. Many of you have seen my sidebar where we have pictures of our dogs, but I have many that I haven't shared with you that Kayla has taken. She loves to take pictures of the dogs!
Four years ago, this little dude came into my life.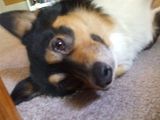 He is my numero uno and my protector. I love this dog with everything in me. Soon, his ugly demeanor will be leaving because he is getting neutered (shhh…don't tell him). He is a 4 year old Pembroke Welsh Corgi who LOVES his family. He is a great snuggler and loves to go on walks together. He is also a bottle boy.
Give him a two liter bottle and he is in heaven. He is super smart too! He knows all the names of his toys and will bring you each one you specifically asks for. What a ham!
Last November, Puff joined our home. This is what Puff looked like the day we got him.
He was very skinny, scared, and needed much love. The story of how Puff chose us is awesome, but will have to be shared in another post. We have had him a year now and this is what Mr. Puffball looks like today:
He feels very loved and has filled out quite a bit. He is my buddy and loves to snuggle beside me early in the morning. He sleeps on the bed by my feet every day. Puff used to be a runner, but now, he doesn't run from us. He is finally home.
Earlier this year, my husband happened upon the absolute love of my life. He has become my snuggle partner at night and fights for his spot beside me anytime I sit down.
He may be little on the outside but he is big on the inside and challenges Ruffles quite often for the Alpha male spot in our home!
Those are the wonderful men in my life! What pets do you have?