One of my favorite side dishes is potatoes. I am a spud lovin' kind of girl. I can't remember where we saw something like this, but it looked so delicious and it includes all of my favorite breakfast foods.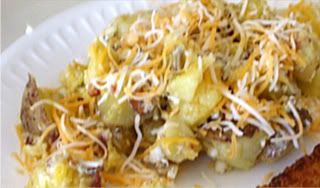 Here is the recipe for this yummy Bacon Potato Hash
Ingredients:
1 large russett potato
1 egg
1/4 cup shredded cheddar cheese
2 slices of bacon cooked and crumbled
salt and pepper to taste
Directions
Poke holes in potato and put in the microwave for about 3 minutes. Set potato aside to cool while you cook the bacon.
Place bacon on plate and cover with a paper towel. Cook in the microwave for 2-3 minutes. Once it is browned and crisp, set aside for crumbling.
Take potato, dice it up with skin on. In a skillet, place two tablespoons of bacon grease from the plate where you just cooked the bacon. Add diced potato and allow it to cook for about a minute.
Take egg, break it into a bowl and scramble it. Place egg in the same skillet with potatoes. Now add crumbled bacon and contiue cooking until egg is done.
When egg is done, sprinkle with cheese and mix until cheese is melted. Season with salt and pepper.
This post is linked to
Tempt My Tummy Tuesday
and
Life as Mom Ultimate Recipe Swap
.