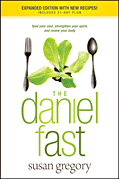 I am so blessed to be a Tyndale book reviewer. I get some of the best books in the world to read and then share my review with you!

My latest book to review was The Daniel Fast by Susan Gregory. I love books on fasting. I haven't practiced it much, but the times when I have fasted, I have seen the miraculous power of God move in my life like no other time.

The thing that I liked about this book is that not only is there a section on fasting, but it also explains in great detail what the Daniel fast is and what it isn't.

On top of it being very informative, the book also lists for you foods that are acceptable to eat during a Daniel fast and also recipes, meal plans, and a very special 21 day devotional to help you through your very first Daniel Fast.

If and when I ever get to the point of doing a Daniel Fast, I will be using this book quite a bit.

If you think you might be interested in this book, you can read the first chapter
HERE
.
What if you could grow closer to God and improve your health in just 21 days? Susan Gregory, "The Daniel Fast Blogger," has a plan to help you do just that. Widely recognized as the expert on this 21-day fast inspired by the book of Daniel, Susan has helped thousands of people discover a safe and healthy way to fast. The principles you learn from The Daniel Fast will change the way you view food, your body, and your relationship with the one who created you. Includes 21 days' worth of Daniel Fast recipes! Visit www.daniel-fast.com

I received this book as my only compensation for reviewing. The opinions in this review are solely my own.